While most of the writing these days takes a digital form, students and graduates should grasp cursive writing because sooner or later, they might use it for a formal invitation, list, or an outline of an essay.
Mostly, students use cursive writing to show their creativity. It would help if you practised joining the letters to make your writing piece look neat, so it does not affect the readability. The most vital aspect of cursive writing is to comprehend the position and shape of each letter. Learning to slope and curve the letter is also very important when it comes to cursive writing.
Why is cursive writing an important skill?
There are several benefits of learning how to write in cursive. It aids mental development and enhances intellectual skills.
Below are some of the benefits we can list for you.
Better writing ability
Enhanced memory
A medically proven cure for dyslexia
Cursive writing in Microsoft Word
Cursive writing has been commonly used for most of human history until the modern age of technology. Microsoft Word operating system also offers a wide range of cursive handwriting fonts and styles.
Fonts can be divided into several categories. Some of the types are as follows;
Blackletter
Serif & San Serif
Greek-Roman
Gothic
Monospaced
Script and Handwriting
Blackletter fonts are the oldest typefaces, dating back to the 1400s, so they are also known as Old English and Medieval fonts.  Handwriting and script fonts can be classified as Cursive and Decorative.  Greek-Roman typefaces are a mixture of Roman, Gothic, and Serif fonts.
Windows 10 offers twenty inbuilt cursive fonts, a couple of Handwriting fonts, and three Blackletter fonts. Although you can always download and install additional fonts, you can create a new font on your own if you are feeling creative.
To see the variety of fonts available, click on the dropdown menu on your word document.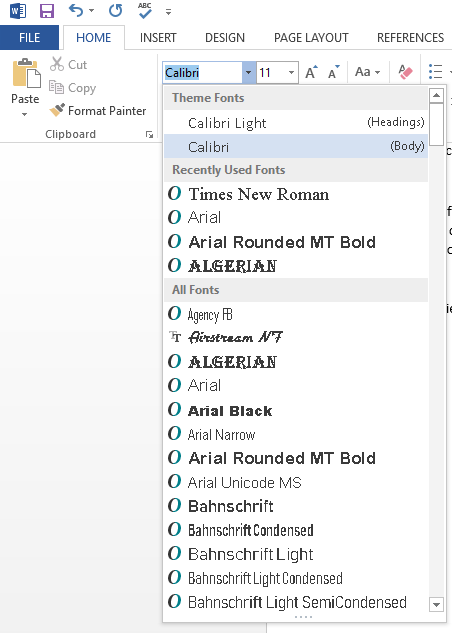 Although it doesn't show which fonts are cursive, you can click the dropdown list. Every font's name is written in its lettering. You can scroll down to review each font and pick the one that attracts you the most. You can also write a font name in the dropdown menu to get right to the fonts of your choice.
Microsoft Word now offers 10 script typefaces, which include many fonts, namely freestyle Script, Gigi, French MT, Harlow Solid italic, Edwardian ITC, Brush MT, Lucida Handwriting, Lucida Calligraphy, Magneto, Matura MT, Corsiva, Palace Script MT, Rage Italic, Script MT Bold, Palace Script MT, Monotype Corsiva, and many more.
The Blackletter typefaces include Old English MT, Parchment, and Blackadder. The Greek-Roman typefaces are Roman and Curlz MT, respectively. Lastly, the Handwriting typefaces include Viner Hand ITC and Bradley Hand ITC.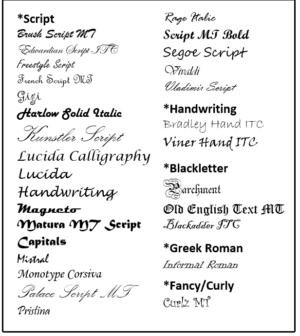 If you want to see which fonts or typefaces you already have on your desktop, you can review the list in the font's folder.
You can locate fonts in the Windows folder - in the C drive of your system. 
From your desktop, open C drive,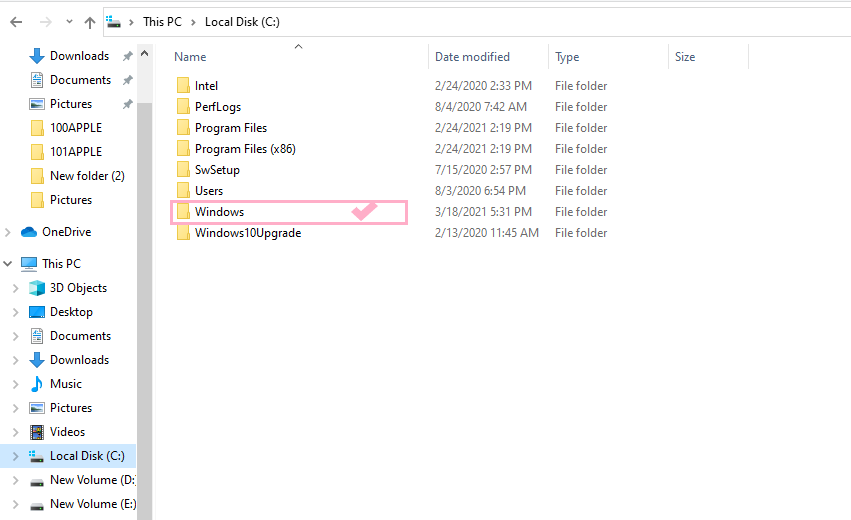 Once you are in the windows folder, locate fonts. You can also type fonts in the search bar of the tab to scroll straight through the list.

  As soon as you get inside the fonts folder, this tab will appear;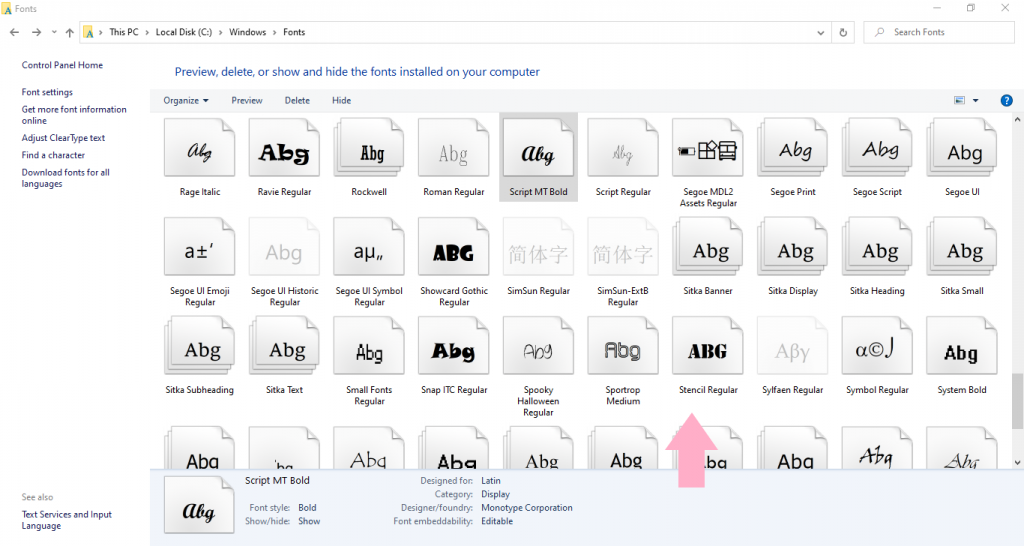 You can use your mouse to drag the window from the bottom up to see a visual representation of the selected typeface. It will be displayed right at the bottom left corner of the window. Scroll down through to list to see the fonts or type the name in the search bar to go straight at it.
If you are not interested in the fonts offered by default, you can choose from the many fonts available on the internet. Thousands of typefaces are available for downloading on several font websites. A large number of these websites are free and are just a single google search away.
Downloading s cursive font is as easy as pie. Here's how it goes.
Open a web browser and type the desired font's category or the specific name in the search bar.
Scroll through hundreds of websites to find the best one.
Choose the font and then and click the download option.
A dialog will appear asking if you want to save or open the file, choose Save and click OK
A zip file will be saved in your download s folder.
Install a zip program such as 7-zip, Win Zip, or WinRAR.
Double click to save or extract/ the zip file.
If you do not want to save the font in your current download folder, you can click browse and select a different folder to save it.
Your newly downloaded font will be installed and ready to use.
NOTE: do not save the font in the windows font folder, although it will not be availed. Choose another location or create a new folder sort them carefully. A suggestion is to create a new folder in D:\ or E:\ drive to have a backup in case of system failure or if the operating system goes corrupt.
Having a backup will help you when you have to use the font to continue working on the specific project or copy the font to a different operating system.
If the font goes missing, Windows will, of course, only provide you with the closest substitute to the original, which may completely ruin the project. Hence it is a good idea to save the font in the related project folder to use them whenever you need to proceed with the project.