Often in persuasive writing, authors can get stuck while writing engaging pieces that can persuade readers and spark their interest. This requires the usage of various techniques that can improve the writing and impact the readers. Also, these techniques allow the readers to clearly understand the author's viewpoint, and they are most likely to agree with it.
Among such techniques, the usage of appeals such as ethos, logos, and pathos is the most common and popular technique being used by writers since the times of Aristotle. Aristotle identified these appeals as the major role players in the act of persuasion.
These techniques are also effective in scientific researches for convincing the audience and effectively explaining the research. Thus, if you are a scientific researcher or an author who wants to improve his writing and make it more convincing and persuasive, this article is for you. Here I have explained these techniques in detail and their various uses in writing to improve its overall outlook and add a rhetoric effect.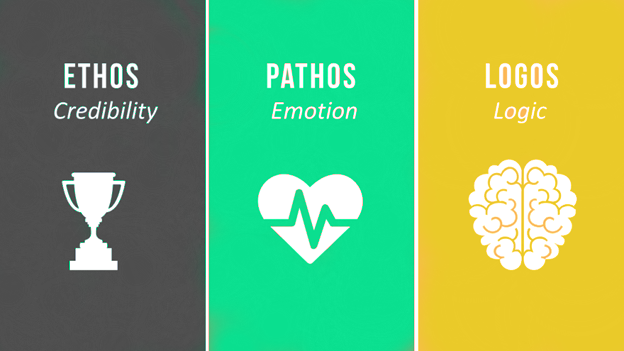 ETHOS:
The literal meaning of the word 'ethos' is a character, which implies that this appeal is related to the author's credibility, moral character, and familiarity with a certain topic. The readers need to know that how you are credible and reliable to talk about that matter.
Through the application of this appeal, you will build trust with your readers that are essential for persuading someone. When the author becomes able to establish trust and credibility through writing, readers are likely to get easily persuaded and follow the author's recommendations. When an author shares his personal experience about a certain phenomenon, this increases the author's ability to talk on that topic with confidence based upon that personal experience.
This technique is also used by advertisers, such as when toothpaste ads say that four out of five dentists recommend a certain toothpaste. This instantly creates an impression on the listeners, and they are most likely to buy that toothpaste.
Similarly, in writing, using this technique enhances the readers' trust, and it is easier to convince them. However, it does not mean that you have to lie about certain things or exaggerate in any way. The simple trick is to create an impression by establishing trust and familiarity with the reader.
Considering scientific research, a researcher's credibility lies in his methods used and the logic applied to prove a certain standpoint. His credibility will increase with the amount of effort put into research and the effective ways through which the ideas are being presented.
Persuasive writing does not have to be such that to impose your ideas and forcefully try to persuade readers through statements such as "this is the only way" or "nothing else can work." Instead, an author should stay humble while presenting his standpoint and should not show hints of aggression in his writing. Ethos can be displayed through the following characteristics,
Similarity with the readers:
When writing about a certain topic, you should be mindful of the expected audience for that topic and relate with them through your writing. Men talking about feminine beauty products would not be as much convincing as females writing about those products and conveying their effectiveness. This implies that readers are more likely to get convinced when they feel a connection, and they can somehow relate with the author. Using 'we,' 'us' can create a connection between the author and readers that is effective for persuasion.
Respecting other opinions:
Ethos also deals with the author's moral character, who cannot be stubborn in his standpoints and cannot try to forcefully convince his readers. The author should show humility and also respect the counter-argument, and simply tell ways in which the particular standpoint under consideration is more convincing. Such as in scientific research, the researcher should also refer to and appreciate other researchers' work. This also creates a positive impact on the readers.
Establishing trust:
Your readers should be able to perceive you as trustworthy and authoritative to talk about a particular topic. This trustworthiness comes from certain factors such as morals, principles, ethics, honesty, compassion, and mannerism. Moreover, when discussing a particular topic, establishing authority on it through your experience and prior knowledge would help persuade your readers.
PATHOS:
Pathos refers to the appeal to the emotions that are established in the readers when they read a particular piece of writing. It does not mean to exaggerate something or make it sound more dramatic; rather, it means to trigger any kind of emotion in the reader, through which they are more likely to get persuaded with the author's viewpoint. In terms of Aristotle, pathos simply meant appealing to the audience's emotions with feelings such as pleasure, anger, pain, happiness, and sadness.
The usage of pathos is not such that to distort readers' viewpoints but to persuade them with certain aspects that can trigger the emotions of the audience. The readers are more likely to get persuaded with the author's viewpoint if they feel an emotional connection. Appeal to emotions is a common way to persuade someone that is also used apart from writing. Politicians use emotional appeal to persuade voters by telling them about their struggles and the future happiness they could bring for the people.
This implies that the usage of pathos can be manipulative and can be used negatively, thus in writing, pathos should always be used with other two techniques, namely logos and ethos, to establish a positive act of persuasion. The usage of pathos is common in literary pieces such as poems, dramas, memoirs, novels, and other writing forms, such as argumentative essays. Pathos is integrated with writing so that the readers also perceive the particular topic in the same context as the author perceives it and tries to convey it through his writing. Weak pathos can create a repelling effect, and the readers would not understand the author's viewpoint and would not get persuaded.
Usage of pathos in science writing
The usage of pathos is also effective in scientific writing. However, it is perceived that science and emotions are completely different and cannot be related; that is not the case. While presenting your scientific research, you can also use pathos for convincing your audiences, such as talking about climate change or global warming can evoke feelings of concern among the audience. Talking about research in upcoming technology or something like astrophysics or quantum physics can raise feelings of wonder, excitement, and interest that would impact the readers and convince them.
Ways to use pathos
You can connect with your readers through the usage of pathos in various ways. It can be done through the usage of phrases such as "a joyful moment," "what a pity!", "devastated and ruined," "living to the fullest." Such words and expressions can evoke feelings of joy, anger, sadness, and other emotions that would help engage the readers and convince them.
You should know exactly what emotions you need to evoke among readers and express your ideas in that way. Such that if your particular topic has room for humor, you can integrate it and keep your writing style casual and a bit humorous for readers to enjoy your writing and agree with your point of view.
The usage of pathos significantly depends upon the choice of words, such that "ways to get an appraisal" can trigger more powerful emotions compared to "how to work hard at the office."
Using metaphors and sensory language is a common way to integrate pathos in your writing, such that "a dazzling sight," "memorable experience," "binge-worthy movies" are stronger expressions that have a greater impact on the readers.
LOGOS:
Logos refers to logical appeal where arguments are backed up with appropriate evidence and logic to prove a certain standpoint. Whenever an argument is presented in writing, the author needs to form valid reasoning for supporting that argument and making it more authentic. Humans are naturally inquisitive, so they need logic, rationality, and reasoning to understand various aspects. Readers are more likely to get convinced with a particular point of view if they find valid reasoning behind it.
This technique is specifically important in argumentative essays and scientific research, where every claim needs to be backed up with ample evidence and logical reasoning. In terms of Aristotle, logos rests in the written words of the writing that speak for themselves. Logos is not achieved by the author's mere presentation of logic; rather, it is achieved when readers can comprehend and get convinced by the argument based upon valid reasoning. Your presented reasoning or factual knowledge will be of no use if it cannot influence the audience.
Convincing your readers requires the presentation of information in a logical flow, appropriate structure, and a sequential basis to enhance their understanding. Your readers should be able to conclude your viewpoint themselves just before they conclude. This would only happen when they can understand the logic presented behind the arguments.
The logical reasoning presented in the argument should start with commonplaces or shared information, such that you can start your argument with words like "as we all know." This would allow your readers to become familiar with the logic behind the argument, and that logic will not be an alien concept for your readers.
Ways to use logos
The reasoning behind your viewpoints can be more impactful with the usage of statistical and factual knowledge. Readers are mostly convinced when they are presented with facts and statistics. For example, "every year many trees are cut for using wood" is less convincing and impactful than "every year, 4 million trees are cut for using their wood".
While presenting your readers with technical information, you should explain it effectively to enhance their understanding, further impacting their agreement with the viewpoint.
Logically present your arguments and viewpoints having a consistent flow that would be easier for the reader to perceive and comprehend. Your readers will not get convinced with your presented viewpoint if they get stuck while understanding the argument in the first place.
How to analyze the usage of ethos, pathos, and logos?
After you have completed your writing, you need to analyze the usage of ethos, pathos, and logos from the viewpoint of the reader to evaluate the effectiveness and convincing power of your essay or research. The usage of ethos can be analyzed in the following terms,
Are the presented viewpoints related to the target audience?
Is the language used towards people with opposite viewpoints humble or disrespectful?
Is an authority and trust with the readers established in writing?
Is the evidence used fairly?
The usage of pathos can be analyzed through the following questions,
Does the presented information spark interest?
Does it effectively target particular emotions?
Are there any signs of exaggeration or manipulation?
Is the usage of pathos balanced with logos and ethos?
The usage of logos can be analyzed as follows,
Is enough evidence presented to support the argument?
Is the information presented logically?
Is effective reasoning used where required?
Are technical terms explained in detail?
Is there consistency and flow in the presentation of arguments?
These three appeals are highly effective in persuasive writing and should always be used along with each other to convince your audience and leave a long-lasting impact.